Bell tent rentals shipped anywhere in the U.S.A.
Experience glamping yourself with our bell tent rental program.
Glamp at a festival, campground, a wedding or even your own backyard.
Set-up is simple and the memories are magical.
If you're new to glamping - for yourself or for your guests - you are in for a delightful camping experience. There is nothing like spending a night in a beautiful bell tent, and then waking up in a functional and cozy home base on your adventure.
Our Rental Tents…are legit.
Our bell tents are a super spacious 16 feet in diameter (5 Meters) and can sleep up to 8 people in sleeping bags or 4 people in two queen sized beds.
Set-up only requires a hammer and level piece of land (with a view) and takes less than 20 minutes when using our simple bell tent set-up instructions.
No need to worry about the weather, as these are high end canvas bell tents that can stand up to driving rain and wind, and glow on sunny days.
Bell Tent Rental Pricing
Mail Delivery:
We are happy to ship you a clean bell tent rental, anywhere in the US. Total cost, including round-trip shipping is $345 per tent, for 3 nights of use (transit time of course does not count!). Sorry, we do not mail any furnishings.
Limit of 3 bell tents for mail delivery rentals.
Tents are shipped via ground postage from Portland, OR or San Diego, CA.

Pick-up:
We offer pick-up of bell tents from our Portland, Oregon and San Diego locations.
Bell tent rentals are $175 (1-3 nights). Furnishings are additional.
Limit of 3 bell tents for pickup rentals.
Event Delivery and Set-up:
We are are happy to travel to your location to set-up and furnish our tents for your event. Learn more on our event page or contact us to see how we can help.
Our Bell tents can accommodate up to 2 queen beds, 4 twin beds, or 8 sleeping bags (or just one queen bed and lots of glamping gear!)
100% waterproof & mold resistant natural cotton canvas (10.6oz) tents
Heavy duty rip proof and waterproof zip-in & out PVC ground sheet (17.6oz)
Bug-netted secondary doors behind outer doors and screened-in windows to allow for tent airflow during the heat of summer
Screened ceiling vents allow for even more airflow
Simple 20 minute tent set-up (if you are inclined to take this easy project upon yourself)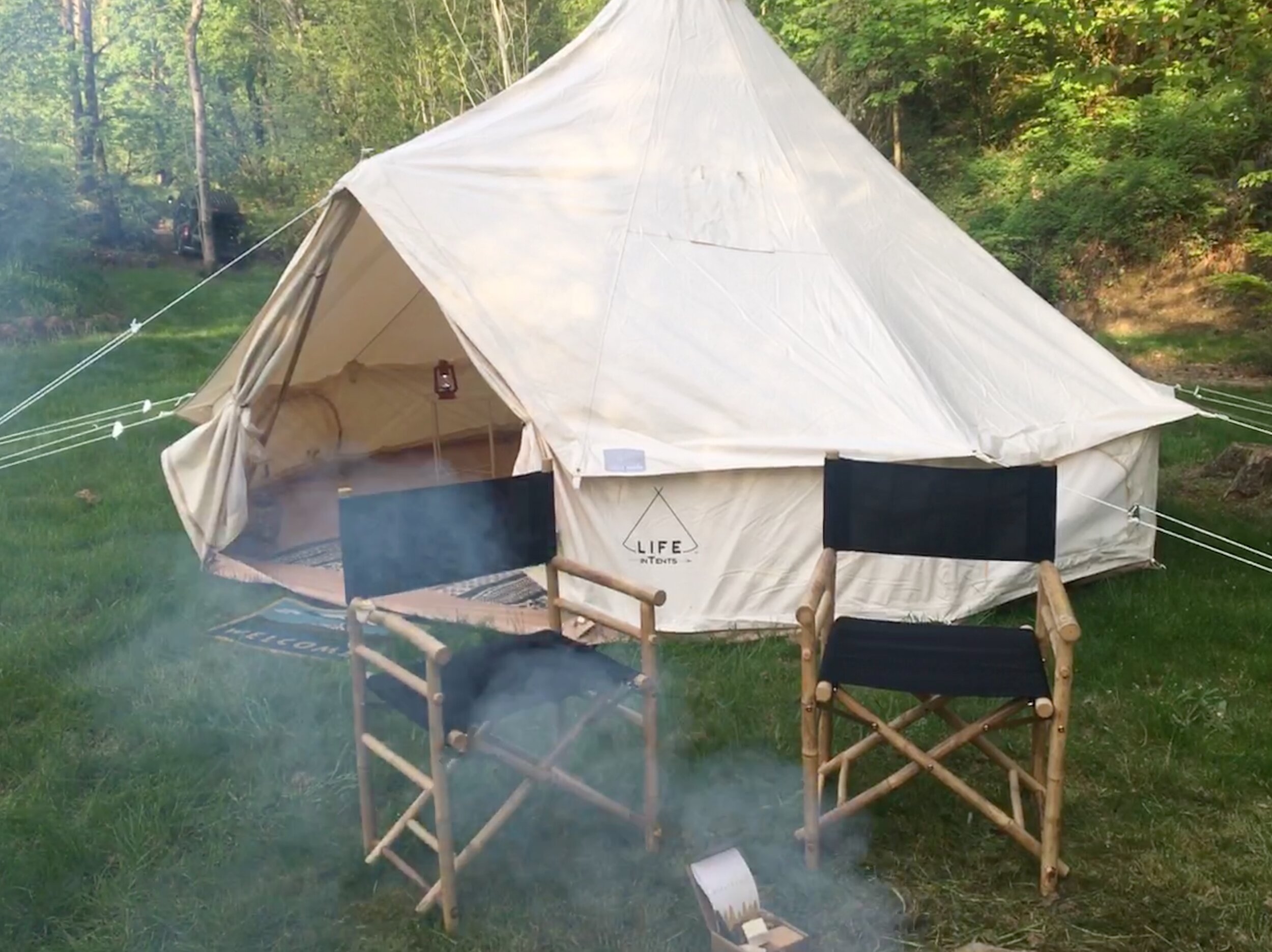 Diameter: 16 feet (5M)*
Floor Space: 209 sq. feet.
Height: 10 feet (in center)
Door Height: 5'6" (A-frame)
Weight: 90 pounds
*We suggest providing a 20 foot diameter clearing for each tent to allow for the guy lines and stakes to secure each rental camping tent to the ground.
Lounge Tent: Plush Floor Cushions or Chairs + Rugs + End Tables + Lanterns
Children's Sleepover palace: Create a magical tent fort with sleeping bags, streamers, and more. Bring out a projector for a movie or video games.
Get creative: Changing room, storage room, pop-up store front, massage space, meeting room, etc.
Why Rent a Glamping Bell Tent?
There are many great reasons to rent a bell tent. Here's just a few:
You're thinking of buying a bell tent, but want to test drive it first.

You want to go on a multiple day camping trip with the family, and a bell tent would be much more comfortable than a traditional tent.

You're having guests over, but there's not enough room in the house.

You're going on a road trip and want the freedom to stop and make one place your home for a while.

You're hosting a party (anywhere) and want a covered living area for day use.

You're hitting up a music festival and you want an amazing home base for you and your friends.

You're simply curious and want to see what all the buzz is all about!
Essentially, a bell tent is a portable home. Much more home-like than a normal tent. So if you can imagine a time where you'd like to pop up a home somewhere, then a glamping tent rental is deserving of your imagination.
But you don't need a fancy reason to give glamping a try. You could rent a bell tent for a weekend in your backyard, just cuz. Glamping is fun, people. We love making up excuses to go glamping.
Renting Several Bell Tents for Weddings or Events
If you're interested in renting several of our bell tents for an occasion, you can read more about our glamping event services. From weddings, to retreats, festivals, private parties, to exquisite outdoor excursions: if you want to treat your guests to a totally unique experience, we'd love to help you achieve your vision.
We'll come to your event site to build and remove a pop-up bell tent village of your liking. Typical glamping tent rental furnishings include bed(s), pillows, linens, area rugs, end tables, lanterns, chairs and lots of style & charm. Our bell tents will take your event to the VIP level, keeping your guests amazed - and dry.
Glamping Event Services include:
Furnishing and styling

Delivery, set-up, maintenance, and take down

Complementary guest reservation management and payment collection (if desired)

Onsite event guest check-in & housekeeping (if requested)

Event planning, collaboration, site visits, and management
Bell Tent Rental Packages:
SILVER COMFORT PACKAGE:
Our most popular package includes camping bell tent rental, furnishings, set-up, take-down, and amazing hospitality service. It includes:
Queen Aerobed Mattress + Sitting Chair(s) + Rug + End Table + Lantern + Bedding + Throw Blanket + Solar Fairy Lights + Mirror + Welcome Mat + Wicker Waste Basket
GOLD COMFORT PACKAGE
Everything in the Silver package but with the bed upgraded to a 6" memory foam mattresses on a raised bed frame
BRONZE COMFORT PACKAGE
This package includes 2 twin foam mattress camping cots in place of a queen bed.
Add an additional queen bed or up to 2 twin foam mattress camping cots to any of the above packages to sleep up to 4 people per tent
JUST THE TENT
We ship or set-up an unfurnished camping bell tent rental. Simple tent set-up instructions and phone support is available if you elect to go at it alone.