If you're looking for more than a tent rental, we've got you covered. We can come to your event site to build a pop-up bell tent village, keeping your guests amazed - and dry.
Our standard glamping tent rental furnishings come complete with bed, pillows, linens, chair, area rug, end table, camp lantern, mirror, throw pillow, throw blanket and lots of style & charm.
Services include:
Furnishing and styling

Delivery, set-up, maintenance, and take down

Complementary guest reservation management and payment collection (if desired)

Onsite event guest check-in & housekeeping (if requested)

Event planning, collaboration, site visits, and management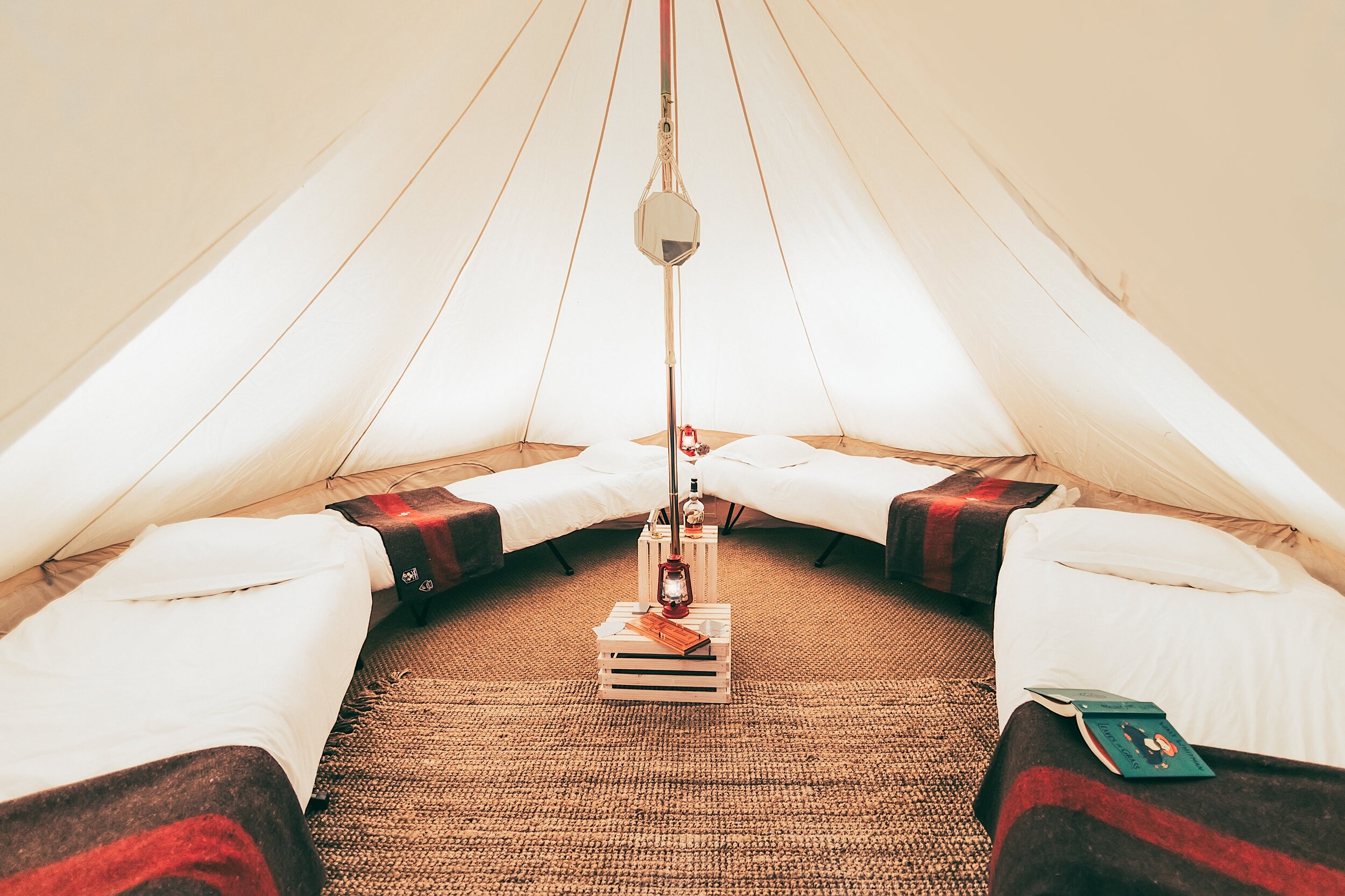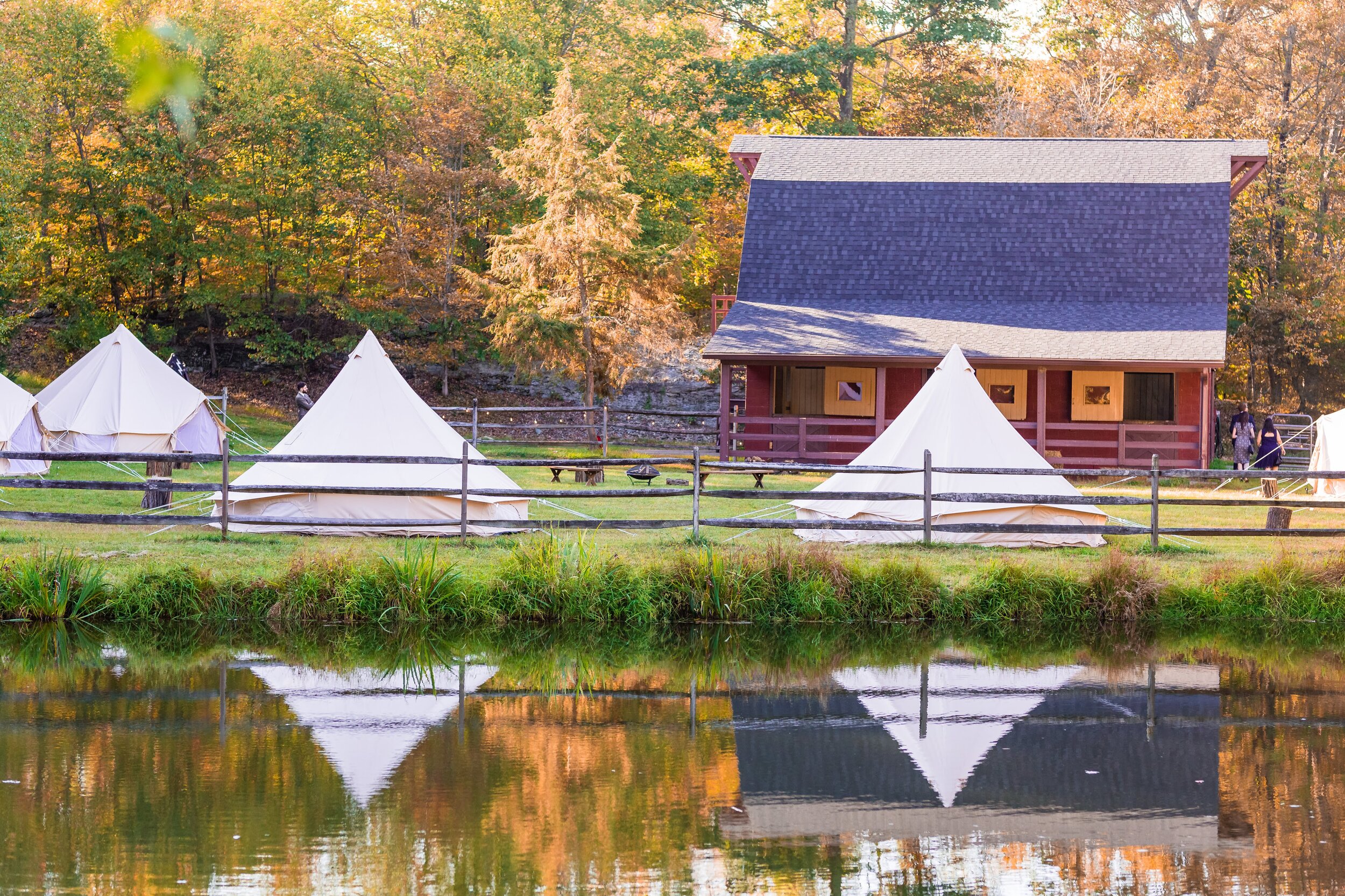 Bell Tent Rental Packages:
SILVER COMFORT PACKAGE:
Our most popular package includes camping bell tent rental, furnishings, set-up, take-down, and amazing hospitality service. It includes:
Queen Aerobed Mattress + Sitting Chair(s) + Rug + End Table + Lantern + Bedding + Throw Blanket + Solar Fairy Lights + Mirror + Welcome Mat + Wicker Waste Basket
GOLD COMFORT PACKAGE
Everything in the Silver package but with the bed upgraded to a 6" memory foam mattresses on a raised bed frame
BRONZE COMFORT PACKAGE
This package includes 2 twin foam mattress camping cots in place of a queen bed.
Add an additional queen bed or up to 2 twin foam mattress camping cots to any of the above packages to sleep up to 4 people per tent
JUST THE TENT
We ship or set-up an unfurnished camping bell tent rental. Simple tent set-up instructions and phone support is available if you elect to go at it alone.
Bed Configuration Layouts:
Bell Tent Rental Pricing
Event Setup:
Let's discuss specifics, bue we regularly travel throughout the U.S. from our Portland, Oregon or San Diego, CA locations.
Mail Delivery:
We are happy to ship you a clean bell tent rental. Total cost, including round-trip shipping is $345 per tent, for 3 nights of use (transit time of course does not count!).
Sorry, we do not mail any furnishings.
Limit of 3 bell tents for mail delivery rentals.
Tents are shipped via ground postage from Portland, OR or San Diego, CA.

Pick-up:
We offer pick-up of bell tents from our Portland, Oregon and San Diego locations.
Bell Tents are $175 (1-3 nights). $50 each additional night.
Furnishings are additional.
Limit of 3 bell tents for pick-up rentals.
Working with Us
VIP Treatment
WHITE GLOVE SERVICE
We share in the love and joy of every event that we help to create. We work to earn your trust and confidence from the very first phone call or email with our prompt replies and a knack for empathy. From the picturing, planning, to execution - we will be there to bounce ideas off of or to help lend an extra hand on your big day.
HOSPITALITY SERVICE:
On the big day we will can help to direct your guests to their tents upon their arrival and provide a brief orientation of their accommodations.
Our team will remain on call and physically check-in each day to help troubleshoot any guest comfort needs during their stay. We can even keep a dedicated team member on site if requested.
COMPLIMENTARY GUEST RSVP SERVICE:
You can reserve a specific number of wedding camping tents with us, or you add us as an accommodation option on your website and have guests book with us directly. We will provide you with a private reservation landing page url to share with your guests. Your guests could RSVP by paying a portion of the wedding camping tent rental costs - or you could cover it all for them - we can help to develop creative solutions to fit your needs.
Glamping Tents for Weddings & Parties
Your Special Day, Your Way
Are you considering a remote outdoor venue that is out of range of Uber or Lyft and lacks enough beds for your guests? We can create a pop-up bell tent village to host your guests at.
Our comfortable glamping tent rental accommodations will blow your guests socks off and can keep your loved ones centrally located together on virtually any outdoor location - so there is no need to shuttle your guests in and out of the party.
Retreats
Create a Pop-Up Glamping Village for Your Group
Sometimes we need to get out of the office to reset, recalibrate, energize, and brainstorm to bring ourselves to the next level.
Not only can the tents help to set-up offsite lodging anywhere in nature, they can also be furnished to allow for unique workshops, training, dining, socializing, team building and board meetings - wherever you want.
Festival Glamping - Sleep It Off in Style
Weekend long music festivals bring an energy like no other. And let's face it, they come to an end much sooner than anyone wants. So why waste precious time planning and packing building and taking down camp?
You also know that it takes solid stamina to power through multiple days and nights of singing and dancing. Our tents will help you to conserve both your precious time and energy so that it can be invested elsewhere. (Not to mention that you will look good in your fancy digs.)